On May 17, 2020, the Northridge congregation unanimously elected Betsy Lyles Swetenburg to become our next Senior Pastor and Head of Staff. Betsy and her husband Owen currently reside in Atlanta, where Betsy serves Trinity Presbyterian Church. Betsy will begin her ministry with Northridge this July.
Read "How a Lakewood church is saying hello, goodbye to pastors amid a pandemic" published in the Lakewood/East Dallas Advocate on July 16, 2020.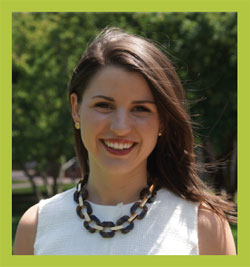 "Joy has been nestled into every nook and cranny of this process. Time and time again, when I thought I'd surely reached a saturation point, joy continued to crop up and multiply. And I'm confident that joy will continue to overflow as we join together in ministry. Owen and I can't contain our excitement about getting to know you, becoming Texans and learning our way around Dallas (with your help!), and most importantly, sharing our lives with you as we head into the future together."
BETSY SWETENBURG
Meet Betsy.
Personal Background
Currently an Associate Pastor at Trinity Presbyterian in Atlanta, Betsy comes from a family with strong Presbyterian roots. Her grandfather was a Presbyterian pastor, her uncle is the Senior Pastor at a PCUSA church in West Virginia, and her father now has the distinction of being a preacher's son, brother, and father! Originally from Davidson, North Carolina – the small college town where her parents went to college and ultimately raised their family – Betsy is the middle of three children, with an older and younger brother. Her mother works for Davidson College, and her father is a mortgage banker.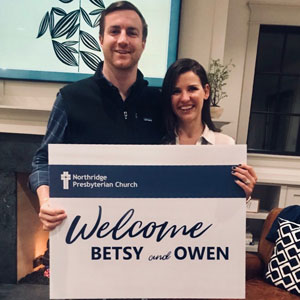 Betsy's husband Owen is originally from Charlotte, North Carolina and works in data analytics. Like Betsy, Owen is a lifelong Presbyterian with strong family ties to Davidson College, which his father, sister and brother-in-law all attended. Owen's father is a retired pediatrician, and his mother is a retired educator. Owen is the youngest of three, with an older brother and sister.
Betsy and Owen met during freshman move-in at Davidson College in 2007, and they soon became friends. They went on their first date six years later, and in 2017, they married. Since their wedding, they have lived in Atlanta and are the very proud aunt and uncle to seven nieces and nephews.
According to Betsy, "Owen and I are always seeking good food, good music, good comedy, good coffee, good hikes, and good company."
Education and Professional Background
Betsy received her Bachelor of Arts in English from Davidson College in 2011. Upon graduation, she was awarded a Tate Fellowship for a year of seminary studies while she imagined ministry as a vocation. She earned a Master of Divinity from Columbia Theological Seminary in Decatur, GA in 2014.
While in seminary, Betsy worked with the Cousins Foundation as an Engagement Fellow and Director, and she served as a Pastoral Intern at both Oglethorpe Presbyterian Church in Brookhaven, Georgia and Covenant Presbyterian Church in Charlotte, North Carolina. After graduating from Seminary, Betsy continued her work at Covenant Presbyterian Church, working as the Interim Director for Adult Discipleship and Young Adult Ministries.
In January 2015, Betsy was recruited by Columbia Theological Seminary to serve as the Director of Admissions and Financial Aid, supervising a staff and transforming the school's admission and financial aid processes. Since the summer of 2017, Betsy served as an Associate Pastor at Trinity Presbyterian Church in Atlanta, a large urban church with 2200 members. At Trinity, Betsy played an integral leadership role including leading all aspects of Trinity's young adult ministries, participating regularly in worship, preaching, teaching, and assisting with weddings, funerals, and new member engagement. Betsy also led Trinity's task force to plan and implement an informal worship service. In 2018, Betsy's role expanded to include all local and global missions, Congregational Life, and supervision of Trinity's Communications Director. A year later her role expanded yet again to include supervising the Director of Formation (who oversees Adult Education, Spiritual Formation, Congregational Life) and supervising the Director of Engagement (who oversees Member Engagement and the New Member process) and running Trinity's Stewardship campaign.
From her References
Betsy is a great preacher and a phenomenal leader. She has a knack for building strong and collegial relationships with folks of all ages and ethnicities. Any church would be blessed to have her.
Rev. Dr. Anna Carter Florence
Peter Marshall Professor of Preaching at Columbia Theological Seminary
Betsy firmly believes in God's power to redeem. Betsy has a unique and unusual range of gifts and cluster of skills, capacities and potential for leadership. She's polished and mature beyond her years.
Rev. Dr. Kimberly Clayton
Interim Senior Pastor at Trinity Presbyterian Church
Betsy is one of the future leaders of our denomination. She has every gift in the world and will challenge, love and stretch a congregation. She wants to be in a place where the congregation will take a faith journey alongside her. Get ready to grow!
Rev. Matthew Ruffner
Senior Pastor/Head of Staff at Preston Hollow Presbyterian
Betsy is smart, determined, capable and relational. She preaches sermons that encourage folks to take the message from the pews into the streets. She very much believes that Jesus wants Christians to look after the least of these.
Rev. Dr. Leanne Van Dyk
President of Columbia Theological Seminary