Although COVID-19 has forced us to postpone several mission programs listed below until it is safe to come together again in person, we are continuing to help our community through our Pack The Pews program. Each month, we will select a new mission partner to benefit from a Sunday afternoon collection of essential items. Please join us as we Pack The Pews!
When we resume normal operations and mission program activities, we will post updates on the website, on the calendar and in the newsletter.  Read about our pre-COVID-19 activities and programs below: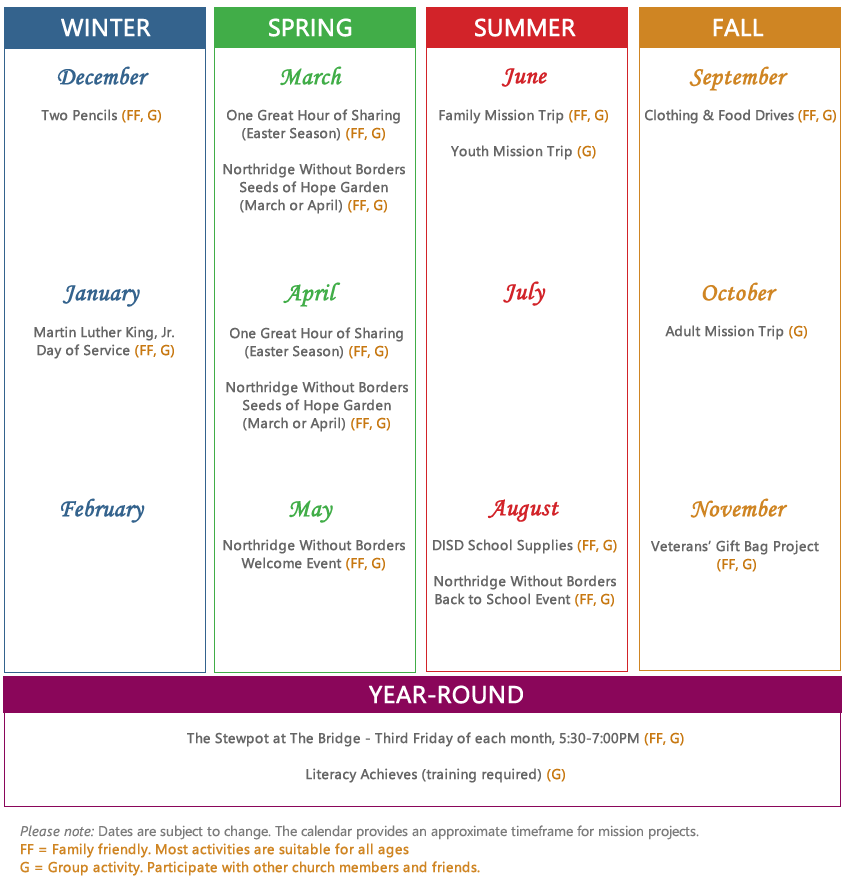 Some of our recurring annual church-wide mission projects include:
Clothing & Food Drives
Once a year, Northridge members clean out their closets for the Dallas Crossroads Center (the "clothes closet" for The Bridge, a transitional living center for the homeless located in downtown Dallas). Annual canned food drives help a few of our partner agencies provide food to those in need. For more information, visit bridgenorthtexas.org
Martin Luther King, Jr. Day of Service
Northridge began an intergenerational service project in 2009 on the Martin Luther King holiday, which is a school holiday for most students. On that day, members and friends volunteer to deliver Meals on Wheels for the Visiting Nurses Association (VNA). By doing so, we help the VNA feed more people by eliminating their daily cost for paid drivers. For more information, visit vnatexas.org/i-need-help/meals-on-wheels.
One Great Hour of Sharing
Each spring during the Easter Season, Northridge participates in this ecumenical offering to share God's love with people experiencing need. Our gifts support national and international ministries of disaster response, refugee assistance and resettlement, hunger ministries, community development and peacemaking activities. For more information, visit specialofferings.pcusa.org/offering/oghs.
Two Pencils
This annual Christmas project began after an adult mission trip to Juarez, Mexico. We arrived with school supply kits for 40 children, but were greeted by108 eager children. Rather than leave some out, we opened the kits to find that we had enough pencils for each child to receive two. The impoverished children responded with choruses of gracias and tears of gratitude for two pencils to learn to write their names, to express their hopes, their ideas and their love. Thus was born the Two Pencils Christmas project. A catalog is printed each year that gives us the opportunity to honor someone at Christmas with a monetary gift to one or more of our Northridge-supported mission agencies. A card or a bag with a card and two pencils is provided for gift-giving. For more information, visit northridgepc.org/mission-stories#twopencils.
Veterans' Gift Bag Project
Northridge has participated for several years in a Thanksgiving project for veterans at the Dallas Veterans' Hospital located in South Dallas. Members participate by filling individual gift bags with personal care items for both men and women. When the collection of bags is completed, a group of Northridge members delivers the bags to the patients at the VA Hospital.
To learn more about our mission and outreach, please read our mission stories and view our mission partners.