With missions and service opportunities as a huge piece of life at Northridge, we have heard countless inspiring stories of how our missions have touched individual's lives in very tangible ways. Take a look through some of the best moments we've experienced together and be inspired. You can follow along here to find out how you can get involved in stories like these!
Two Pencils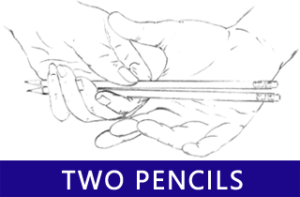 In 2003, twelve Northridge Presbyterians traveled to Juarez, Mexico, to lead a bible school for local children. With school supply kits for 40 children, they arrived at the four-room cinderblock school. They soon discovered they needed kits for 108 children. The church people decided to open the kits and divide the supplies which meant that each child received only two pencils.
The children responded with so much gratitude! The Northridgers wondered how two pencils could mean so much and bring so much joy and thanks! They tried to remember the last time they were so thankful to receive a gift. This was the birth of our Two Pencils program.
Each Advent Season, Northridgers give generously and directly to the Two Pencils Campaign, earmarking donations to key local, domestic and global Missions that we've supported for years! A few of these missions include:
Northridge Without Borders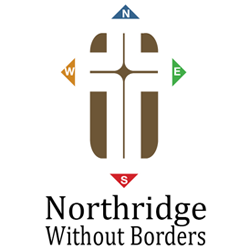 The idea for Northridge Without Borders originated in a Church Task Force looking at ways to open church facilities to those in need beyond our membership.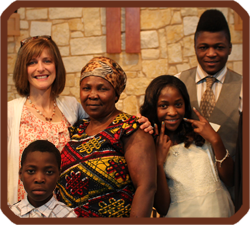 Founded in 2012, Northridge Without Borders teams with the International Rescue Committee (IRC) to provide nurture and support to refugees fleeing political oppression and torture in their home countries. Our support has focused upon nuts and bolts assistance on shopping at the grocery store, mass transit, navigating the public schools, employment counseling and employment references. Northridge has been blessed that several refugee families have joined our membership.
With the change in Administration at the Federal level, and the decline in the number of refugees settling in Dallas, Northridge Without Borders is pivoting to supply assistance to asylum seekers and their children at our southern borders.
Northridge members and friends have been helping "Pack The Pews" to support the IRC's work. Learn more about this effort.
Literacy Achieves

Northridge was a leader in establishing ELM, the English Language Ministry in 1994 as part of the East Dallas Cooperative Parish. In 2014, ELM merged with a sister organization, Vickery Meadow Learning Center, as a means of expanding the program and impact in the community. Today Literacy Achieves provides quality instruction in English as a second language primarily to adults and their young children. Classes are offered morning, afternoon and evening and include up to seven English proficiency levels, all with classroom and computer instruction. Citizen preparation classes as well as one-on-one tutoring for the naturalization interview are also offered.
By assisting these adult students to become self-sufficient, our hope is to give their young children the advantage of an English-speaking mother and father who can help them through school. In addition to financial assistance, many Northridge members are volunteer tutors at Literacy Achieves east Dallas campus and provide board leadership.
Mission
To equip non-English speaking adults and their young children with English literacy and life skills to promote self-sufficiency and the overall well-being of our students, their families and the greater community.
For more information, visit literacyachieves.org.
The Bridge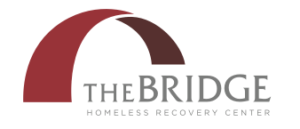 Dallas is not immune from the challenge of homelessness. On any given day in Dallas, as many as 5,000 people – adults, children, the disabled, veterans – are homeless.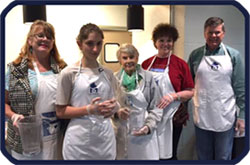 In addition to the private charitable organizations that provide shelter, food and services to the homeless, the City of Dallas created "The Bridge" in partnership with "The Stewpot" — a Ministry of First Presbyterian Church, Dallas that provides transitional shelter, primary health/behavioral care, jail diversion, employment counseling and meals to the homeless.
On the third Friday of each month, Northridge volunteers to serve a Friday evening meal at The Second Chance Café to residents.
For more information, visit thestewpot.org/meal-service.
Seeds of Hope Community Garden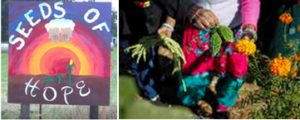 The Seeds of Hope Community Garden is situated in the Vickery Meadows area of Dallas that has long been a place of "first landing for refugees." At McShan Elementary, the neighborhood school, nearly two dozen languages are spoken.
In 2014, inspired by "Northridge Without Borders," and in partnership with the International Rescue Committee and Boy Scout Troop 64, a group of Northridge members banded together to multiply efforts, relationships and resources to create the "Seeds of Hope Community Garden" at McShan Elementary. At the Garden, refugee families cultivate organic food crops indigenous to their native lands and adaptable to the Texas climate. Crops support the refugee families at the dinner table and at sales at local Farmers Markets.
Northridge member, Tim Forgerson, is currently spearheading efforts to plant a second refugee family garden on a 1-acre plot on Greenville Avenue in Dallas on a Texas Department of Transportation easement.
Veterans' Gift Bag Project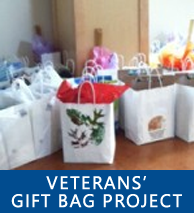 For several years, Northridge has been participating in a Thanksgiving project for veterans at the Dallas Veterans' Hospital located in South Dallas. Members participate by filling individual gift bags with personal care items for both men and women. When the collection of bags is completed, a group of Northridge members delivers the bags to the patients at the VA Hospital.