A steward cares for what belongs to someone else. With our Stewardship, we affirm that all we have and all we are, we receive from God – that: "The earth is the Lord's and all that is in it…" Psalm 24. With our Stewardship we profess that everything – even our very selves – belongs to God.
We exercise financial stewardship by making offerings to:
Our annual operating budget (Stewardship 2020)
Our debt reduction campaign (Forward by Faith)
Our first capital campaign (Called to Grow)
Special offerings throughout the year (for example, One Great Hour of Sharing and Two Pencils)
Our operating budget for 2020 totals $865,000. Budgets for each ministry include staff time and costs to operate our building in the proportion used by each ministry. Our ministries are: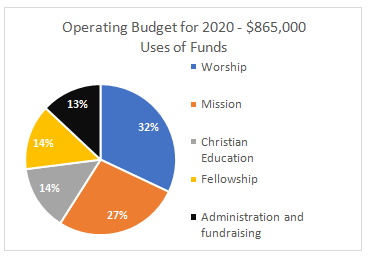 Worship – Worship is the centerpiece of our covenant community, and is where we together profess, confess, express, and are blessed with inspiring preaching and music.
Mission – Together we covenant to be Christ's body in our neighborhood, our community, and our world. Our hands are His hands as we serve the least, the last, and the lost.
Christian Education – Through Christian education for all ages, elementary and youth fellowship, and Vacation Church School, we grow in our knowledge and practice of what it means to be the people of God.
Fellowship – We seek to welcome the stranger and to care for one another as Christ welcomes and cares for us.
Administration and fundraising – We have staff and technology to run our programs and carry out our mission and ministries.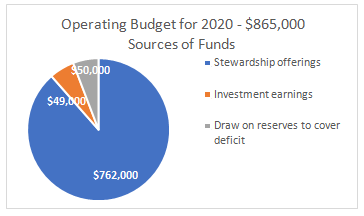 89% of the resources for our 2020 operating budget come from offerings to our Stewardship 2020 Campaign. The remainder come from investment earnings and drawing on reserves to cover the operating deficit. We are committed to close our operating deficit by 2021.

Following are links to:
We practice financial stewardship as a critical part of Christian discipleship. You can make your offering to any of our financial stewardship campaigns by mailing your offering to Northridge, Attention: Treasurer or by using the form below.

Follow this link to make an offering online.